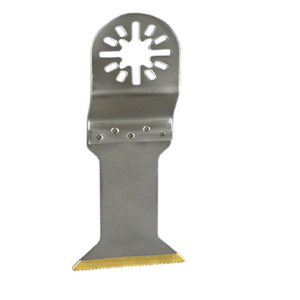 Titanium Coated Bi-Metal Multi Tool Blades
1 3/4 " Width
2 1/4 " Blade Depth    
The Deepest Cutting Blade in the Fitz ALL Blades Arsenal.
Applications: Pretty Much Everything...
Best known for cutting Nails & Screws 
You asked for it and now it's here ! This blade is made from a specialty bi-metal and then Titanium coated to make it the strongest and toughest blade on the market .The Titanium coating helps lubricate the blade and also protect the teeth . We refer to it as the Nail Eater 2.0 as it is 3X as tough . This blade will cut nails and those pesky screws . This is the blade that you want when you are going to war with your next project .
To get the most out of this blade please use the following technique: 
Do not just push the blade into the nail and try to cut it with force . Instead use a light pressure and move the blade back and forth , using as many of the teeth as possible. This will give you a better cut and will greatly extend the life of your blade.