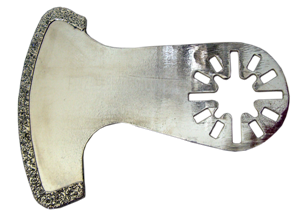 Specialty Diamond Multi Tool Blades
2 1/4" Width
1 1/2" Cutting Depth
Applications: Precise cuts in Tile,Concrete & Stone
Blade should be kept wet when cutting & material should be held securely so it can not vibrate.
Example: Tile should be placed on the ground, table or laundry tub
Few blades are sharp enough and tough enough to go quickly through hard materials. The ones that can go through hard materials are usually kind of big and clumsy. This blade is diamond-edged and designed for intricate cuts. Jobs like cutting out corners are difficult enough when you are cutting softer woods. When you try those intricate cuts with really hard materials, things get… interesting (and not in a good way). If you need to make intricate, close cuts in hard materials, this is probably the best blade for you. It combines the cutting power of other diamond-edged blades with the precision of a surgical scalpel. Because of its shape and diamond edges, this type of specialty blade typically retails for around $50 through most stores and websites. As always, we bring you the very lowest prices possible, even on the most high-end items.